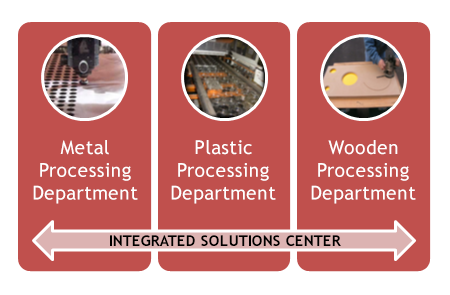 Pre-Production Unit
;
Production process starts at Metal Fabrication Department. Raw materials like metal sheets, tubes or wires being sized or pre-formed accordingly to required dimensions and get ready for further processes.

Pressing Unit
;
In this unit metal parts being formed (bending, cutting, punching, spinning) with various pressing machines (C and H type) and press brakes in a capacity between 10 to 100 tonnes.

Welding Unit
;
Formed metal parts being combined with Mig, Mag, Tig or Spot welding process in welding unit.

Powder Coating (Painting) Unit
;
After the completion of production process, finished parts being powder coated as a final step.

Tool-Making Unit
;
We continuously need new tools for our ever-changing products thus we operate a fully equipped toolroom. Most of our tool making is carried out in-house which makes us more flexible and responsive.


Thermoforming Unit
;
This unit is being equipped with various thermoforming machines which are capable to form materials between 0,2 - 7 mm thickness, up to 120 x 200 cm area.

Injection Moulding Unit
;
Our injection moulding machineries are capable to produce any item from 80 grams to 14 kilograms.

Welding Unit
;
In this unit, ultrasonic and high-frequency welding machineries being used to combine plastic parts.

Recycling Unit
;
With our recycling unit, we're able to re-granulate the residual plastics from production processes and use them again.

Packaging Unit
;
In our packaging unit, we have various shrink machineries with conveyor-belt feeding system, bag sizing/cutting machinery and other small tools to support our operations.


In our wooden department, we're capable to fabricate wooden panels with our CNC-Panel Sizing and Edgebanding machineries for further use in our products as cupboards, shelves or wall panels.
More Information: