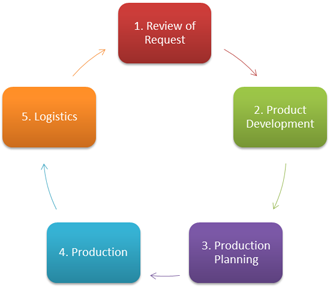 As a basis of whole process, we start with the evaluation of the request received from our customer to understand their needs clearly.
To ensure the quality of this process, several "briefing" meetings being held with customer, previous projects has been reviewed and new needs being explored.

Accordingly to determined needs, our project development team which consist of architectures and industrial engineers tries to create product concepts and present them to you for your selection.
After the determination of desired concept, sample production is being made to see every detail which is not possible sometimes with computer based designs.
Sample production also enables us to see challenging points which might be experienced during the mass production and let us take pre-cautions accordingly.

After the final decision of our customer about exact product and order quantity, we start to coordinate with our raw material suppliers.
Required labor time being determined and production planning has been informed to let them make necessary planning.

Accordingly to plan that has been created at Production Planning process, production being made.

Finished products being packed accordingly to specific demands of our customer. Deliveries have been made to customer's warehouse or to the specific points accordingly to distribution lists provided by our customer.
Meanwhile, with our extensive storage area, we also offer our customers warehousing services for future on-demand deliveries.
More Information: